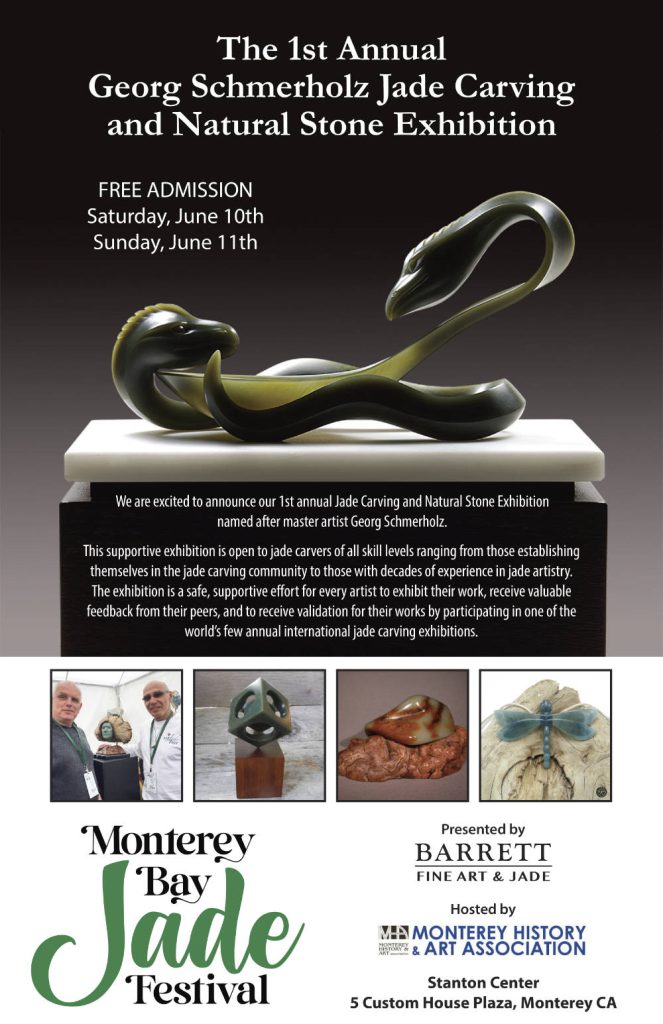 The 1st Annual Georg Schmerholz Jade Carving and Natural Stone Exhibition
Hosted by:

Presented by:

The Monterey Bay Jade Festival is excited to announce announce our first annual Jade Carving and Natural Stone Exhibition named after master sculptor and jade artist Georg Schmerholz.
This supportive exhibition is open to jade carvers of all skill levels ranging from those establishing themselves in the jade carving community to those with decades of experience in jade artistry. The exhibition is a safe, supportive effort for every artist to exhibit their work, receive valuable feedback from their peers, and to receive validation for their works by participating in one of the world's few annual international jade carving exhibitions.
This event offers the jade community the opportunity to view the elegant craftsmanship of jade artists throughout the world in a variety of different types of jade. Each work will be judged by the participating artists based on stone selection, artistic design and execution. Artist recognitions and awards will be announced at the Annual Friends of Jade Dinner on Saturday evening
We are also excited to announce a Natural Stone Exhibition of specimens found after being uniquely shaped and textured by the ocean, rivers or desert winds. These rare stones are seldom if ever seen outside of their private collections.
The Jade Carving and Natural Stone Exhibition takes place at the:
Stanton Center at the Custom House Plaza
(the former site of the Dali Museum)
Saturday June 10th and Sunday June 11th
FREE admission