Welcome to the 5th Annual
Monterey Bay Jade Festival
Friday June 7 • 12pm – 6pm
Saturday June 8 • 10am – 6pm
Sunday June 9 • 10am – 4pm
Custom House Plaza • Monterey State Historic Park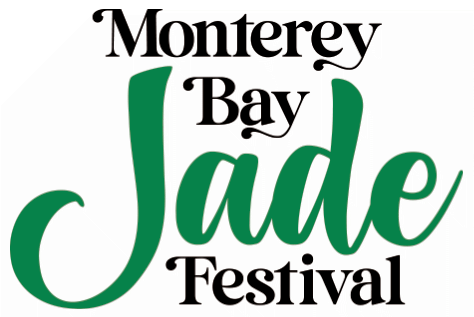 Over 45+ vendors from around the world with the one of the largest selections of Nephrite & Jadeite for sale in North America.
Carvings
Jewelry
Earrings
Necklaces
Pendants
Bangles
Cuffs
Sculptures
Carving Tools
Rough & Blocks
Wind Slicks
Ocean Cobbles
River Cobbles
Specimens
Suiseki
BC & Yukon Nephrite
Wyoming Nephrite
California Nephrite
Guatemala Jadeite
Russian Nephrite
Burmese Jadeite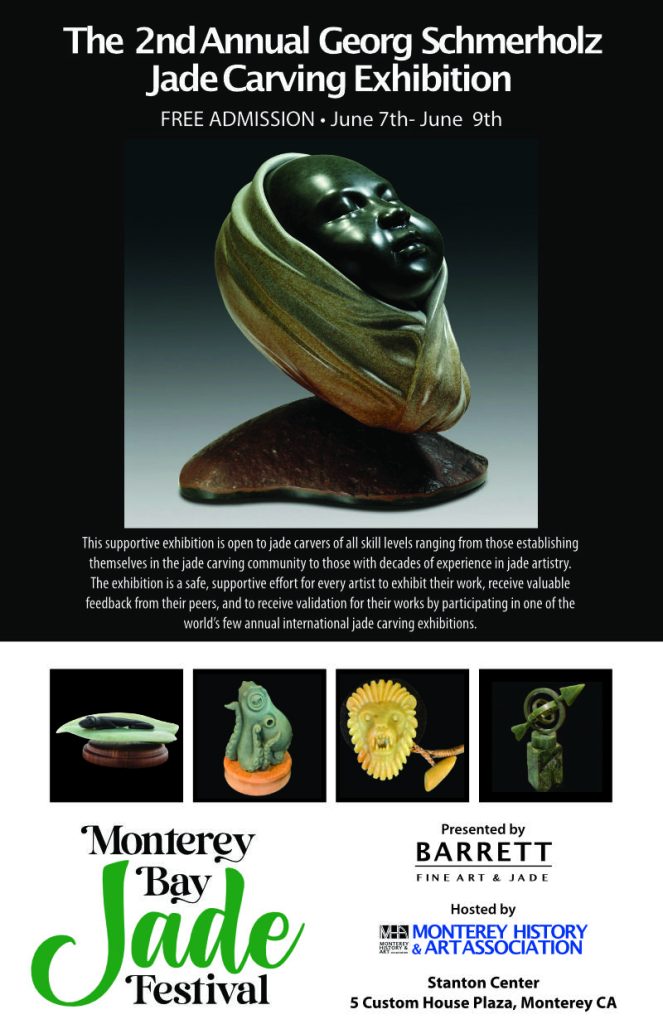 The 2nd Annual Georg Schmerholz Jade Carving Exhibition
Hosted by:

Presented by:

The Monterey Bay Jade Festival is proud to continue our annual Jade Carving Exhibition named after master sculptor and jade artist Georg Schmerholz.
This supportive exhibition is open to jade carvers of all skill levels ranging from those establishing themselves in the jade carving community to those with decades of experience in jade artistry. The exhibition is a safe, supportive effort for every artist to exhibit their work, receive valuable feedback from their peers, and to receive validation for their works by participating in one of the world's few annual international jade carving exhibitions.
Click map for directions.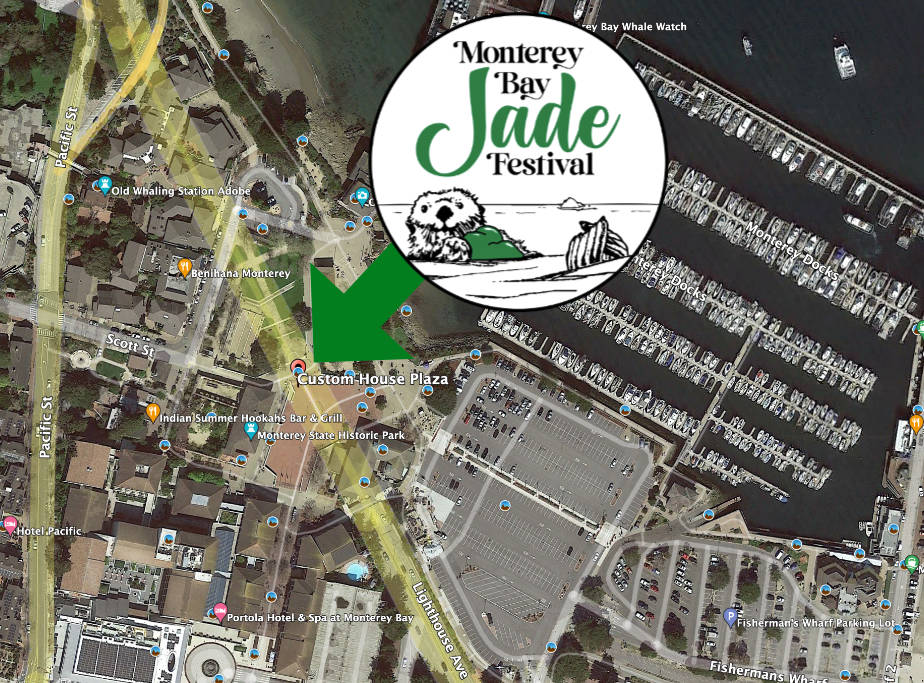 Vendor List & Map
01 Kirk Brock – Rock Solid Jade
02 Kenny Comello – Big Sur Jade Company
03 Justin Barrett – Just in Jade
04 David Clayton – Gems & Jade
05 Stuart Scally – Jade to Gem
06 Dave Smith
07 Dave Smith
08 Coffee Booth
09 Food Booth
10 Food Booth
11 Luke Miller – Yax Tun
12 Luke Miller – Yax Tun
13 Wilson Lai – Jade & Crafts
14 Timothy Hall – Monterey Jade Co.
15 Jim Strand – In Stone
16 Jason Salter – Salty Jade
17 Cassidy Vincent – CassyVStudios
18 Alain Bloom – Love Harmony Inc
19 Fred Menezes – Ocean Made Big Sur Jade
20 Sherry Brajcich Stuckey – Dreaming Owl Barnyard
21 Dillon Carr – Jade Coast Jewelry
22 Sandra Mendoza – Jade and Jewelry
23 Clay Breitweiser
24 Janette Boudreau – Shades of Jade
25 Al Zelenak – The Lander Jade Company
26 Lockie Kellogg – Primarily Jade
27 Greg Larsen – Premier Wyoming Jade
28 Greg Larsen – Premier Wyoming Jade
29 Mathew Grzincic – MG Creations
30 Ryan Spangler – California Jade Carvings
31A Bob Scholl – Really Old Rocks
31B Georg Schmerholz
32 Josh Robertson – JR Jade
33 Jesse Stout – Mayan Mountain Inc
34 Tom Finneran – Jade Bones
35 Roger Krichbaum – Yukon Jade
36 Marina Shoupe / Jim Kelly
37 Marina Shoupe / Jim Kelly
38 Doug McKern – Doug Mckern Minerals
39 Stephen Sednek – Siberian Jade
40 Mike Burkleo – Revelations in Stone
41 Mike Burkleo – Revelations in Stone
42 Shane Zach – Freshwater Jade
43 OPEN
44 Chad Lloyd – Ridgetop stoneworks
45 Monterey Bay T-Shirts
46 Monterey Bay T-Shirts
47 Marco Mazza / Nathan Wall
48 Allan Spehar / Drew Arnold
49 Dean Delahaut – Dean's Spheres & Slabs
50 Bob Carmen
Scenes from the 2022 Monterey Bay Jade Festival